Introduction to Time Attendance Software
The use of a right time attendance software / attendance management system can save your company a great deal of time and reduce errors that are often made by wrong attendance calculations. Save efforts,  and thus save time and money with a robust our best time attendance software
Streamline Your Workforce Management with Time Attendance Software
Biomax Time Attendance Software is a modern digital solution that automates attendance tracking, time-off requests, and payroll processing. It replaces the traditional manual timesheets and reduces administrative workload, improves efficiency, and saves time and costs.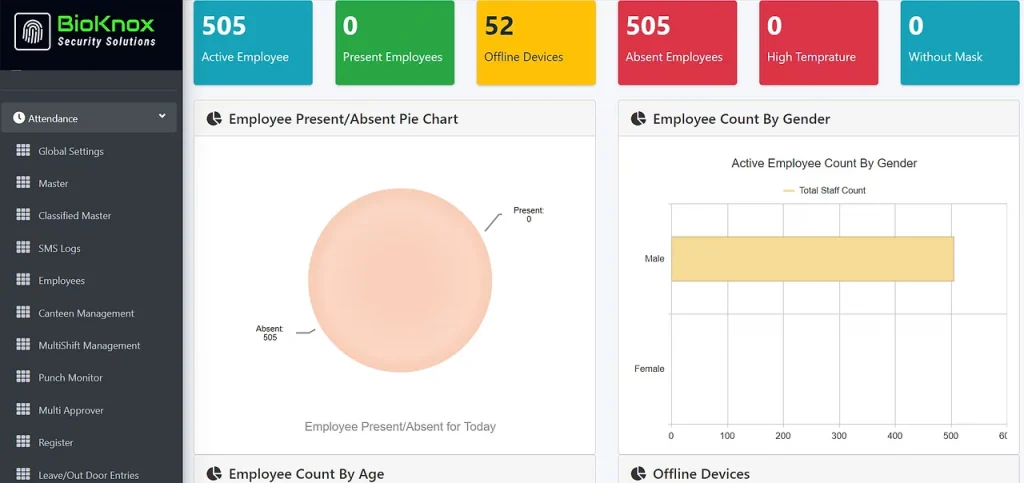 "Time and attendance management is critical for ensuring working time and employee absences are managed correctly, for monitoring and improving operational efficiencies and for ensuring compliance"
Features of Biomax Time Attendance Software
:- Automated Attendance Tracking: The software records employee clock-in and clock-out times, eliminating the need for manual tracking and reducing errors.
:- Time-off Management: Employees can request time off, and managers can approve or reject the requests, keeping track of leave balances and reducing scheduling conflicts.
:- Accurate Payroll Processing: The software calculates employee work hours, including overtime, and generates accurate payroll reports, reducing disputes and errors.
:- Real-time Data: The system provides real-time data on employee attendance, making it easy for managers to monitor and track attendance trends.
:- Integration with Other Systems: Time Attendance Software can integrate with other HR systems, such as payroll and scheduling software, to streamline workforce management.
Benefits of Time Attendance Software
Improved Efficiency: The software eliminates manual attendance tracking, reducing administrative workload and improving overall efficiency.
Accurate Payroll Processing: The software ensures that employee work hours are accurately recorded and processed, reducing payroll errors and disputes.
Compliance: The system ensures compliance with labor laws and regulations, reducing the risk of legal liabilities.
Cost Savings: The software eliminates the need for manual attendance tracking, reducing administrative costs and improving overall cost-effectiveness.
Time Attendance Software is a valuable digital solution for organizations seeking to streamline their workforce management processes. With features such as automated attendance tracking, time-off management, and accurate payroll processing, the software improves efficiency, reduces errors, and saves costs. By implementing this digital solution, organizations can focus on their core business activities while leaving the attendance management to the software.
If you are interested in implementing Time Attendance Software for your organization, contact us Bioknox Securities  today to learn more.